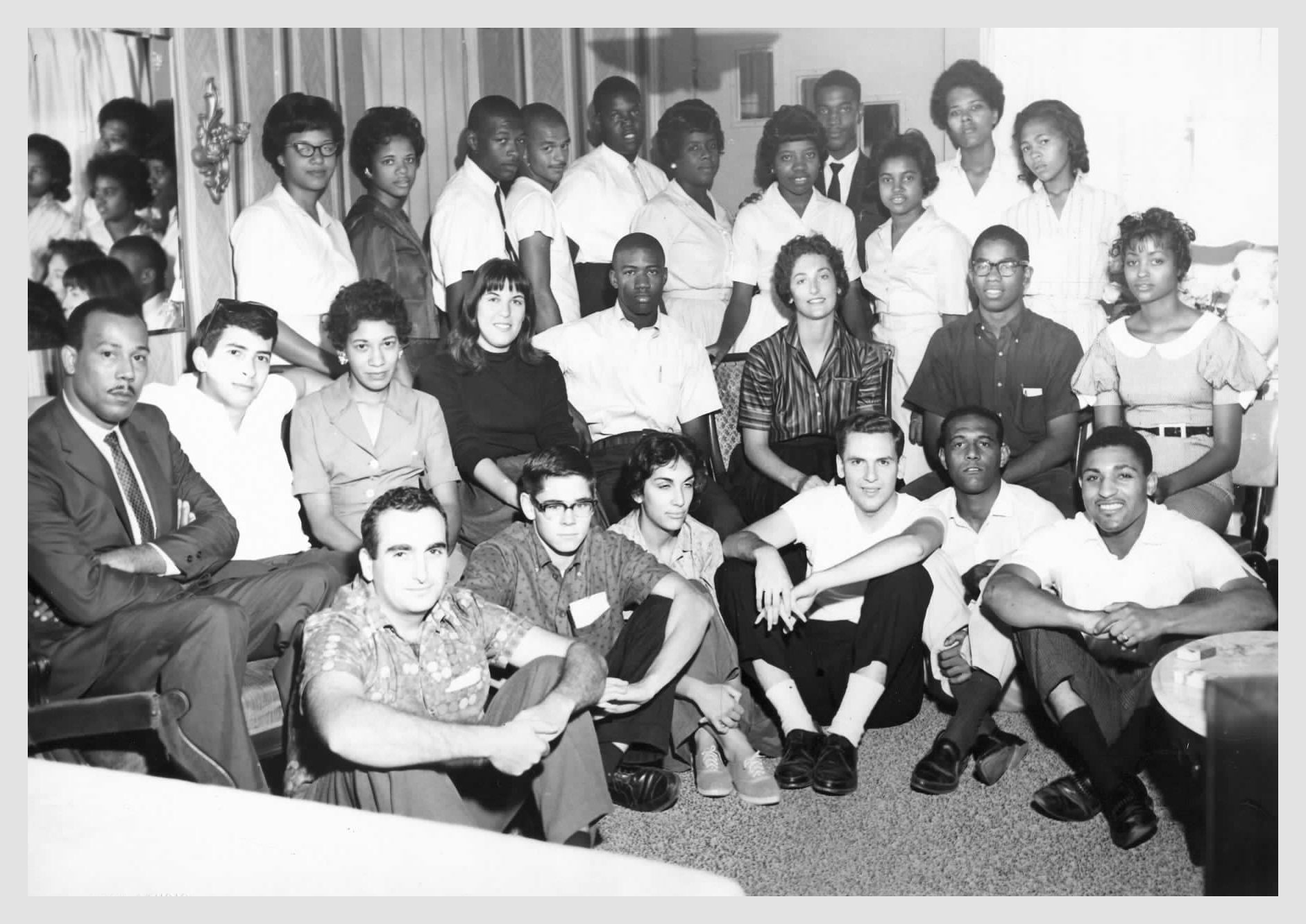 The Freedom Riders of the 1960s represented a cross-section of American culture.
Black and white, young and old, religious and secular, Jewish and Christian, teachers and students. Led by James Farmer, organizer and leader of C.O.R.E. (Congress of Racial Equality), the Freedom Riders set out to gather as diverse a group as possible to remind segregated America that she was a diverse country, and she should act like it.
On May 4, 1961, the riders traveled from Washington D.C. through the heart of the Deep South to try to repeal the segregated travel laws that kept blacks from common freedoms. Along the way, they encountered beatings, bombings, and murderous threats from those who saw nothing wrong with the Jim Crow laws of the South – racist laws. It is hard to imagine that a basic freedom like sitting down to eat lunch in a diner was up for question. Well, the riders addressed these questions and paid a heavy price to engage the issue.
They paid the price because they believed it was worth the cost.
It was the right thing to do. They could not stand idly by while the injustices of racism went largely ignored. And while they couldn't change everything, they could at least get involved. It was a monumental time, ready for a monumental change, and they jumped on the bus to jumpstart a change. The Freedom Riders helped establish the Civil Rights Movement by shining a bright light on an otherwise dark chapter in American history. Through non-violent resistance, they garnered the attention of the nation, helping turn the tide of public opinion simply by highlighting atrocities happening in the south. It had never been done before. Most people were too afraid to challenge the deep seeded culture of segregation. This act was one of faith – one with roots in another monumental time and place.
It was an act of heroism, a move towards justice – good checking evil. The Freedom Rider's story and the larger narrative of the Civil Rights Movement gripped the heart of the nation for the simple reason that there were people that wanted to see the injustice of segregation remedied. It took some brave folks to shine the spotlight on the things swept under the rug for so many turbulent years. In doing so, they began to turn the tide. Their story echoed the work of Jesus. Many of the riders were Christians; they understood that slavery and segregation were born from evil. They had a moral obligation to address it.
The only thing necessary for the triumph of evil is for good men to do nothing. – John F. Kennedy, attributed to Edmund Burke
Sin's reach is long, and it affects everything and everyone. It causes a man to control, manipulate, and abuse. Sin perpetuates hate and strife and fear. Slavery, racism, and segregation are evil, the fruit of the fall and original sin. We have dealt with this cancer from the dawn of time. It has infested and infected us all. The final end of this sickness is death. Every one of us will face this truth. It is inevitable.
The Bible tells us of our horrible predicament through sin. But much more than that, it's about God pursuing us in relationship to heal us. Though we can never undo the curse of sin and death, we can be freed from its bondage. There is hope. One man turned the tide of history and opened a door for change, and our good.
Jesus paid the ultimate price to deliver us from our bondage.
We are segregated from Him through sin; we are all bound in chains of sin and brokenness, imprisoned by the injustice of death. Sin and death are not supposed to be our portions. We are struggling, gasping, choking to be free, whole, and complete.
Jesus took a journey and paid a price we could not pay to ransom us from a life enslaved by sin. He stands today; ready to fight for you, to deliver you, to give you new life. He promised that all who come to Him through faith could be saved. Let Jesus shine the light His of love upon your heart today. Ask Him.
"In Him was LIFE, and the LIFE was the light of men. And the light shines in the darkness, and the darkness did not comprehend it." Jesus said, "I have come that they may have LIFE and that they may have it more abundantly." – John 1:4-5; 10:10
Jesus, I thank you for new life. I ask that you would meet me right now. Set me free from sin and death; change the course of my life. Amen.